One of football's original and most colourful hard men, with a notorious bad temper, Frank Barson signed for Barnsley in 1911 making his debut the following year and becoming club captain, but in October 1919 after 94 matches and a series of incidents he was sold to Aston Villa for £2850.
He won his only club honour with Villa in 1920 when they won the FA Cup, and also while at Villa won his single England cap against Wales in March 1920.
Suspended by the club for misconduct, not for the first time, he was sold to Manchester United in May 1922 for £5000 after 108 games and 10 goals in claret and blue. Captaining Manchester United he had an injury plagued 6 years at Old Trafford,  playing 152 games and scoring 10 goals before joining Watford in May 1928 on a free transfer.
A year later he became player coach at Hartlepools United but then joined Wigan Borough in October 1929. He was inevitably sent off in his last appearance for Wigan, not for the first time in his career, indeed his suspensions alone totalled well over a year of his career. The man's a legend, well worth reading about! Indeed the latest article on his life has recently been published by The Guardian on December 16th 2014. An anti-hero perhaps, but well worthy of inclusion in our Heroes section.
Frank shakes hands with Billy Flint of Notts County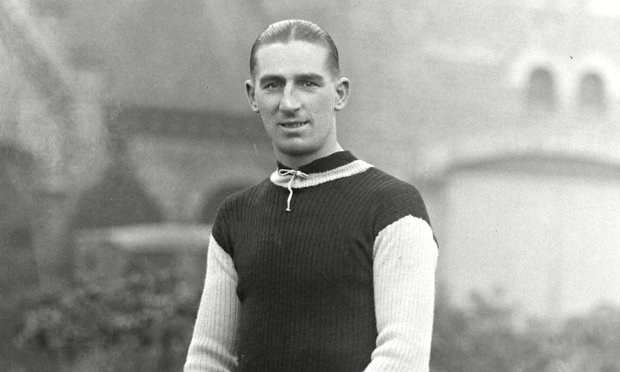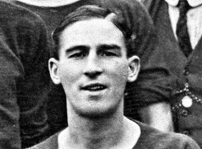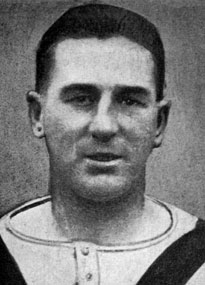 At Manchester United, face looking somewhat more battle scarred.
22 September 2011
Guns, disputes, late tackles, murderers for mates and a bloody-mined streak that makes Roy Keane look like a church warden. Ex- Manchester United and Aston Villa player Frank Barson was football's original hardman.
Hard men and characters. Everybody says there aren't enough of them left in football. All the old faces say there used to be plenty in the old days. Roy Keane wouldn't have lasted five minutes against Tommy Smith. Norman Hunter, there was a real hard man. And Dave Mackay, Billy Bremner and all the rest. They were real hard men. No they weren't. Not compared to the hardest of the lot.
Frank Barson. The mere mention of his name made opponents of Aston Villa claim they were injured. Like all legends, tales about Barson are many. But in his case most of them are true.
Barson was born in Grimesthorpe, in the Sheffield steel belt. He first came to prominence playing for Barnsley, where he had already served a two month suspension following an incident in a friendly against Birmingham, and on one occasion had to be smuggled out of Goodison Park to avoid a large crowd who had gathered outside the ground to discuss with Barson his behaviour in an FA Cup tie with Everton.
Barson came into conflict with Barnsley over travelling expenses, and Aston Villa directors George Ramsay and Frederick Rinder, both of the 'suffering is good for the soul' school of Victorian discipline, were convinced that he would be the best player to improve a Villa team which had been struggling after the First World War. Barson, strangely for such a self-confident man, initially thought himself not good enough for the Villa, but the persuasive Ramsay won the argument and Barson moved to Villa in October 1919.
Barson undoubtedly played a large part in the Aston Villa team during his three seasons at the club, but it is his run-ins with authority for which he is best known. He maintained a business in Sheffield and refused to move to Birmingham despite the Villa's insistence that he should do so. This cost him dearly once, when he and goalkeeper Sam Hardy, who lived in Chesterfield, were forced to walk seven miles to Old Trafford in bad weather after missing a rail connection. Naturally, Barson was the best player on the pitch that afternoon.
There's also a story that towards the end of his career Barson didn't feel he was getting the pay rise he deserved, so helped contract negotiations along by going to a meeting with his manager carrying a gun.
Barson's living arrangements caused further controversy on the opening day of the 1920-21 season, when he missed a defeat at Bolton. He was suspended by the Villa board for fourteen days but Barson still refused to move. In fact, he was appointed captain although it's not known whether he decided he wanted the job and nobody dared argue with him. Frank celebrated his appointment by scoring with a header from thirty yards out against Sheffield United.
Opposing crowds hated him, so much so that Barson was forced to publicly defend himself on the grounds that he had been "brought up to play hard and saw nothing wrong with an honest to goodness shoulder charge."
However, Barson was not always the guilty party. The Villa's opponents frequently took out their anger on his colleagues, which was often the signal for Barson to roll up his sleeves and extract revenge on the miscreants. It was also common for the crowd at away fixtures to howl for Barson's blood following incidents in which he had played no part.
Probably the most famous story about Frank Barson concerned the 1920 FA Cup Final, when he was warned about his behaviour by referee Jack Howcroft – in the dressing room before the match started. "The first wrong move you make Barson, off you go" he was told. Howcroft repeated the threat a couple of years later when officiating another Villa game. But despite this, the two men retained a healthy respect for each other.
For a player like Frank Barson, a lengthy career at any single club would have been impossible. The beginning of the end to his time at Villa came following a match against Liverpool. Barson invited a friend of his to wait in the dressing room while he got changed, and this drew a rebuke from a director. A seven day suspension was the result and this was followed by a transfer request.
Villa actually did offer him good terms to re-sign at the beginning of the following season, but Barson refused to play for the team again, Joining Manchester United in late August 1922. He also received permission from the Old Trafford board to live and train in Sheffield. Again, it's believed he asked politely the board if he could stay where he was living. Barson was regarded as a hero in Manchester, although he didn't welcome undue flattery. In fact, he was so sick of such attention that when he bought a pub he gave it away on its opening night to his head waiter.
In his book Soccer in the Blood, Villa legend Billy Walker wrote of Barson "Perhaps the greatest of all the great characters in my album was the one and only Frank Barson. Frank was a Sheffielder, a truly great footballer and personality and a card. He was never ashamed of numbering amongst his friends the notorious Fowler brothers, who were hanged for murder." In fact, prior to a game against Spurs, Frank was sent a good luck letter from the brothers – who at the time were in the condemned cell.
Walker claimed that Barson did more to make him the great footballer he became than did anyone else. However, that didn't stop Frank from behaving in his usual style when they were in opposition. When playing against Manchester United, Walker once laid on a goal and the latest of all late tackles then put him out of action for three weeks.
There's also a story that towards the end of his career Barson didn't feel he was getting the pay rise he deserved, so helped contract negotiations along by going to a meeting with his manager carrying a gun.
Frank Barson. The hardest footballer of all time.